Well we all know the news, Windows 11 is out now available for anyone to download (*cough* torrents). Many have reported (including me) that the Windows 11 Upgrade Assistant (which is now no longer available to download) is showing that the current machines are incapable of upgrading to Windows 11. Strangely as the whole world is reporting that it is not telling why it can't be upgraded. It simply shows that it is not going to let you upgrade to Windows 11.
There is a better tool that can tell you exactly what is the issue. The name of the tool is Why Not Windows 11, it gives a better explanation as to why your current machine cannot run Windows 11. Below is how it looks like when you run it. Download the latest stable release.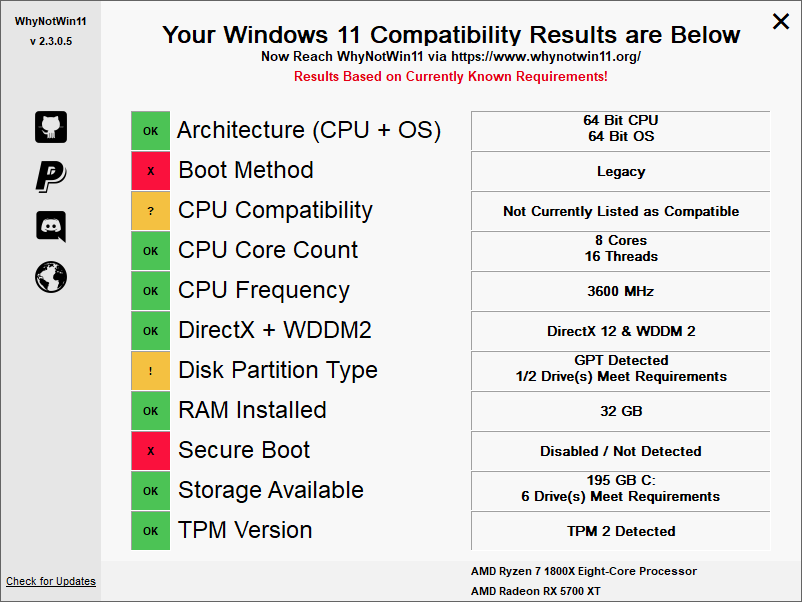 Interestingly I got a message that my current Laptop which is way more powerful than the minimum specs needed for Win11 to run, cannot run Windows 11. I was curious as to what will it take to run Win11.
I fired up a Virtual Machine on Proxmox with 4GB of RAM and 2 CPUs, no TPM, no Graphics Card. Installed Windows 11 from scratch, and guess what in 15 mins Windows 11 was installed fine. Activated it and done, Windows 11 was installed perfectly fine on a sub-par virtual machine and it refused to install on a much more powerful gaming laptop. This is the goof-up that everyone is talking about online.
Anyway, if you want to install Win11 on your machine you can but remember it is not the final version and the crashes are expected. Do it on a test system or better do it in a Virtual Machine using Hyper-V which is part of Windows 10 (Pro / Ent). That way Windows 11 won't interfere with your current OS and you can try all the cool features without any risk.